There are a lot of important things you have to do when you move to a new city, but none are as necessary as finding a good breakfast joint. Now, I love going to trendy bistros for dinner and drinks, but for breakfast I want something simple. I will always bypass a gourmet breakfast menu for the tried and true breakfast basics. Eggs, sausage, hash browns, toast (with jam), and a bottomless cup of coffee for under $10. This is what I crave on a lazy Saturday morning.
Since moving to Baltimore, my perfect brunch joint has regretfully eluded me. One place we tried was too fancy, another place had horrible service. Last Saturday however, I told myself "enough is enough." Time to find somewhere great to go for breakfast in Baltimore. Armed with Yelp and Urbanspoon, I began swimming through brunch reviews of restaurants in the city. The name Blue Moon Cafe popped up again and again and I quickly began to hope that this small cafe in Fell's Point might be the key to my breakfast quest. Onward!
A quick ride on the Circulator plus a winding walk through the harbor got us to the door of the Blue Moon Cafe. A skinny brick building painted with a blue starry sky, Blue Moon Cafe had just the right amount of quirky charm for a breakfast joint. The mass of Baltimorians huddled outside in the wind seemed a bit daunting, but I figured a line was better than no line. A hustling host darted in and out of the cafe letting people know their tables were ready. When he finally paused to add our names to his two-page list, he told us it would be a two-hour wait. Two hours? Was breakfast worth two hours of a precious Saturday morning? Yet, I was so curious to try this food that had people lined up on the street, that we had to wait it out. The host told us to feel free to walk around Fell's Point while we waited, and to take our time.
Luckily, Fell's Point is a perfect place to kill two hours, especially when it's sunny and bright out. We took our time exploring an art gallery, a bike shop, a few side streets, and people-watched to our hearts' content. When I thought I couldn't get any hungrier, we walked back to Blue Moon Cafe to see if our table was ready. It wasn't. And it still wasn't ready until forty-minutes later. When the host called our names we ran to the door high-fiving each other. Yes! We finally got in the door!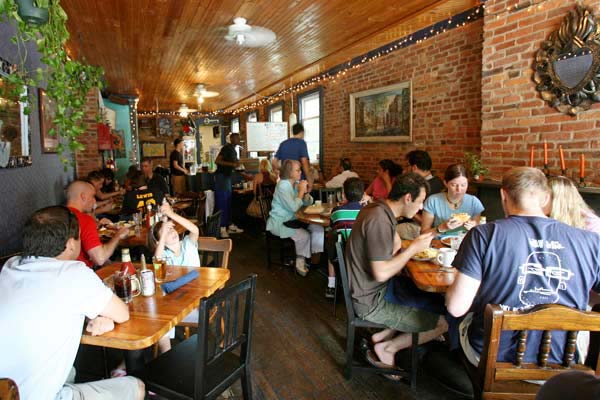 When we entered Blue Moon, I realized why the wait had been so long. The place is tiny. The cafe has maybe only ten tables and a breakfast bar with four seats. The place was packed when we entered, and from the amazing looking food stacked on people's plates, I understood why people were willing to wait so long for a table.
Our seats were at the breakfast bar and we had to squeeze to fit in beside another other couple seated there. Maybe not the best place for a private conversation, but our seats did give us the perfect vantage point to see how the cafe worked. From our seats we could see a sliver of the kitchen where a chef cracked eggs by the dozen. I saw servers filling coffee cups and mixing chocolate milk behind the bar. The phone rang continuously and was always answered by a laughing server. Even though the cafe was extremely busy, the servers had a great time working. They were cheery and polite and served the food with tons of fun. Eighties songs blasted on the radio and the servers sang and danced to them while they quickly filled orders. No apparent stress in sight!
As we surveyed the the vast breakfast menu of omelettes, french toast, pancakes etc., our waitress listed off the daily specials. Breakfast quesadillas, two fried eggs with hash browns in-between, and super cinnamon rolls. When I saw our waitress heat up a cinnamon roll for another customer, I could hardly believe how huge it was! Three inches tall and six inches wide, this cinnamon roll was big enough for four people to eat.Gooey layers of homemade roll dripping with brown sugar and cinnamon: I started going into a sugar coma just looking at it. I knew I'd definitely regret eating one of these cinnamon rolls, but I couldn't resist. When our waitress brought out ours, it was warm and bursting with spicy cinnamon. So many restaurants boast of having "homemade" baked goods that always disappoint. These cinnamon rolls far surpassed any homemade cinnamon rolls I've ever had. So moist, and SO sugary. Just like that, without tasting anything else, I fell completely in love with Blue Moon Cafe.
The omelette's we ordered were magnificent as well. Perfectly cooked and perfectly seasoned full of vegetables,cheese,sausage, and eggs. The accompanying pile of hash browns were crispy and light and so were the homemade biscuits which we barely touched because we were so full. Our mouths filled with flavor as we ate and sipped our coffees. Each bite was delightful and so was the cheery atmosphere in the cafe. The positive attitudes of the servers bounced onto us and made us feel happy to support this small cafe.
I left Blue Moon Cafe fulfilled. My stomach was filled with delicious food, and my quest for finding an awesome breakfast spot in Baltimore was finished. Yes, the wait was way too long, but the feel-good environment and the incredible food made up for it.
Especially that crazy good cinnamon roll.